December 23rd, 2O16
November 21st, 2O16
Nothing new to add but just wanted to let you all know that I am keeping watch of things. Don't want to neglect the website completely :] I have been thinking of changing the name of my website for some time now. I haven't come up with a name yet but I will probably keep the letters
SD
so that I won't have to change the subdomain name and links. Will keep you all posted for sure ♥
Halloween 2O16
September 15th, 2O16
I truly feel so bad for not having done anything around here. I don't want to leave my websites abandoned but I just haven't had the chance to get down to creating or updating. I have two little nieces that keep us very busy lol I have been itching to do stuff but we'll see... On an awesome note, we have our first submitted b-date for
SD
's
Birthday Book
! ♥
February 18th, 2O16
Posted a new
FOTM
video! It so takes me back to my teenage years ♥
February 17th, 2O16
Woo hoo!
SD
has a new affie! I was like "Drrrr!" because how did I not figure it out sooner that we weren't affies and her site is a DOLLIE site too! :] Thank you for accepting Claressa! Please go check out her webby if you haven't yet ;]
February 14th, 2O16
♥ Happy Valentine's Day ♥
This is my little gift to you all. Click her to get the code!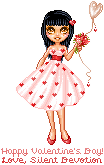 February 7th, 2O16
Posted a new
FOTM
video! Not sure how many of you will know who they are but I am hoping it will be to your enjoyment hee hee! Yesterday, I did a bit of updating but did not post about it. Have two new pages added to the
You Bored?
section:
Collapse
and
Zodiac Sign
(calculates what your Chinese & Western signs are). Not sure if I will keep the game up so enjoy it while you can (just in case).
February 6th, 2O16
Oh my! I have not logged into my Neopets account in YEARS. My poor Elephante was dying!! Do any of you have a Neopet? Here's my
User Lookup
!
February 5th, 2O16
I totally updated my "about me" page info. It needed a revamp because it seemed so impersonal. I think now my visitors can get to know me a little bit better ♥
About Owner
February 2nd, 2O16
Happy February! Hope things are well for you all. It is F R E E Z I N G here! It's been a bit hard trying to work on things when hands are frozen lol This (early) morning I have decided to share some of my pixel creations on
SD
. In due time, I will add more to the page. In the meantime, have a looksie at what I have for now ♥
My Pixel Work
January 29th, 2O16
I had filled out some forms to be added to listings but the websites seem to be inactive (on hiatus perhaps) and no recent updates to let people know. So I removed the links from my website and will try again with other listings. :[
January 25th, 2O16
Just did some behind the scenes stuff around here. Had no idea there were some broken image links. That's what happens when you are too sleepy to work on website stuff lol :]
January 24th, 2O16
Woo hoo! Decided to add a
Birthday Book
to the site! I remember many of the dollie websites had one of these :] Should be fun to bring back something from the old days ♥ I have also brought back my
FOTM
(favorite of the moment) page. I had to take it down since I couldn't update without internet service lol Hopefully now, I will be able to share my favorite songs/videos more often. Be sure to check out the Bday Book and my FOTM ;]
January 21st, 2O16
Got tired of looking at the same old layout so I decided to do an update on it!
SD
will look all whacky but it will remain open :]
*Later (01/22)* Well it is now 4:16 AM PST and I am soooo tired and cold. And hungry lol I wanted to finish up as much as I could with the new layout and matching link buttons/banners. I love these girly colors
♥
January 12th, 2O16
Added new blog pixel text to
Website Stuff 6
and updated the third set of Zodiac pixel text :]
January 11th, 2O16
Happy Monday everyone! Today I have added some
button templates
that I had created back in July of 2O15! Yes, it is sad that it has taken this long to be able to finally get my content up and going. Also added
Web Set Downloads 2
&
Doll Blank Signs
;]
January 5th, 2O16
What a great way to start the year with a new affiliate,
Pretty Sweet
! It has been a long while since
SD
has had one and I am quite thrilled. Please be sure to visit my newest affie ;]
January 4th, 2O16
First off, *~ Happy New Year! ~* I hope you've all had a wonderful time over the winter holidays and are having a great start to 2016 :] As for me, time is always the same to me lol Well, I haven't been doing anything website related in a while now...mainly, because I had no way of getting my content uploaded and having no internet. BUT that has changed now! I have internet at home now and a new laptop, which Santa brought me for Christmas (don't know why, since I wasn't a good girl lol) ;] Will try to get stuff added as time allows. I have not forgotten about my websites and you, its vistors :]
October 2Oth, 2O15
Hi there! Just figured out I can do text update using my mobile but it is still annoyingly difficult to do so. I want to let everyone know I am still around and website still here for you to enjoy. Wish I could upload all of the content I have...oh well. In case I don't get to later, Have a Happy Halloween to all! ;]
January 9th, 2O15
First off, hope you all had a very Merry Christmas and a joyful New Year! I have new
backgrounds
uploaded - which I had been meaning to do for maybe 2-3 weeks. Dial-up and Photobucket just don't work well together! ha ha! Hope you will enjoy them ;]
Older Updates